Conference
Stay tuned to the Future. Impact of research infrastructures 2.0
September 16-17, 2021
University of Lausanne, Switzerland
Research infrastructures (RI) have grown of importance in all fields in the last decades. Research infrastructures allow for scientific innovation that requires long-term investment. In Europe the larger infrastructures are often collaborative effort by many different countries. A framework of performance indicators exist nowadays to assess the performance of research infrastructures. However, there is an interest in looking also beyond the core functioning of research infrastructures and understand the broader impact of RIs on science at large, society, economy and politics.
Understanding impact is much more difficult than understanding performance. While the reflections and publications on how to define and measure impact has grown over the last year, a unified framework or consensus on how to assess the impact of research infrastructures does not yet exist.
Taking as point of departure the conference organized by the ESFRI Strategic Working Group on Social and Cultural Innovation on the impact of research infrastructures, which took place in 2018 in Bologna, the ESFRI Strategy Working Groups have joined forces to organize a follow-up conference to discuss the meaning and the possible measurement of impact further.  The overall objectives of the conference are:
Exchange on the meaning of impact and its variation between and within different fields and research infrastructures.
Exchange on the measurement of impact and its variation between and within different fields (scientific but also economic, societal, cultural impact).
Showcase where and how infrastructures in different field create impact.
Discuss potential and limitation of collaboration between infrastructures to create impact.
Discuss what is the best way for research infrastructures to increase their impact further.

Our keynote speakers:

Jelena Angelis: European Future Innovation System Centre, Belgium
Claire Donovan, University of Greenwich, UK
Frédéric Sgard, OECD Global Science Forum, Paris, France
General information
This is an academic conference. The audience will mostly be scholars in relevant fields, representatives of existing research infrastructures, members of the ESFRI working groups and ESFRI.
Practical information and participation
This is a free hybrid (online/onsite) event.
The speakers will be present in Lausanne. All presentations will be streamed. By participating in this conference, you consent to potential photography, audio/video recording, and its/their release, publication, exhibition, or reproduction for dissemination and educational purposes.
On-site participation is on invitation only and will be limited to 150 people, depending on the COVID-19 situation at the time of the conference. All participants who follow the conference on-site will receive the definite okay for their participation by mid-August.
If you are interested in participating on-site please contact impact2021@fors.unil.ch.
If you would like to follow the conference, you will need to register for both, online and onsite participation. The registration will open soon.
List of hotels
We have arranged for hotel contingents (single and double bedrooms) for your onsite participation. The hotel contingents with the special rates are valid until August 16th. The price ranges are between CHF 125-160 for a single room and CHF 130-195 for a double room per night with the preferential conference rate. Make sure to always mention the reservation code when you book by email or phone.
Booking procedure: When you book, please make sure that you mention the code to obtain the special rate. Our special-rate rooms are guaranteed for a booking until Monday 16 and there is NO CANCELLATION FEE until this date.
1- MAKE RESERVATIONS BY E-MAIL NOW using the dedicated code or form and
2- ENQUIRE about the conditions which are applicable to your individual case. They will depend on the pandemic's progression and restrictions.
The conference will take place on the Campus of the University of Lausanne in Switzerland.
Notably at the Synathlon building, in rooms 1216, 2212, 2218.
Map of the campus and the Synathlon building. The building can be reached by metro. The Metro is called M1 and the metro stop is UNIL-Chamberonne.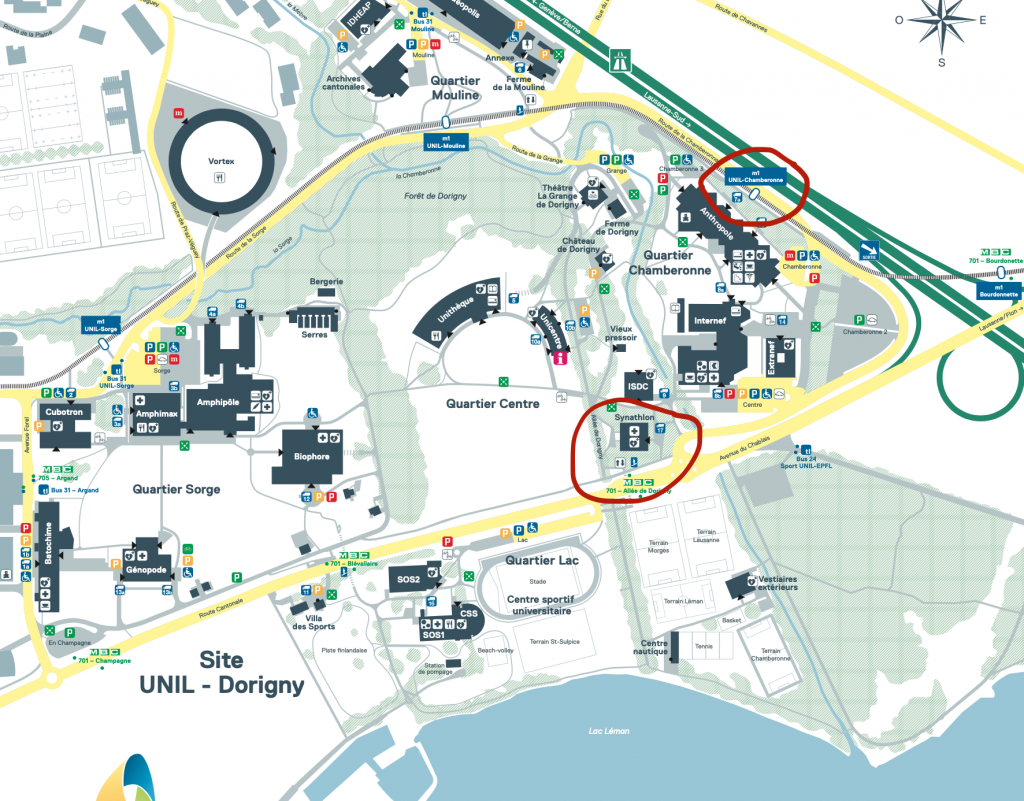 Campus of the University of Lausanne, Switzerland
Public Transports – subways
Both metros, the M1 "Flon – Renens" and the M2 "Lausanne-Ouchy – Epalinges" act as a spine between the three sites of the UNIL Campus.
The intersection of them is located at the Flon and the Railway Stations Lausanne and Renens are attached to them, which improve the students' and professors' moving…
How to get to Lausanne
by air
The conference will start on Thursday morning and will end on Friday midday. The conference dinner will take place on Thursday evening (see programme outline).
Full programme as PDF
Programme outline 16.09.2021
08.00-08.30. Arrival, registration & coffee
08.30-09.00. Welcome & Introduction
Philipp Langer, Deputy Director-General EU Framework Programmes & European Research and Innovation Area, State Secretariat for Education, Research & Innovation SERI
Jan Hrusak, ESFRI Chair
Apostolia Karamali, Head of Unit, European Commission, R&I Actors and Research Careers (RTD.A.3)
Georg Lutz, Vice chair of ESFRI SWG Social and Cultural Innovation, Local Organiser
Bente Maegaard, Chair of ESFRI SWG Social and Cultural Innovation, Programme Committee chair
09.00-10.30. Keynote session 1
Keynote speakers:
Claire Donovan, University of Greenwich, United Kingdom
Jelena Angelis, European Future Innovation System Centre, Belgium
10.30-11.00. Coffee break
11.00-12.30. Session 2: How do research infrastructures create impact?
Benedetto Lepori, USI, Università svizzera italiana, Switzerland
Florent Gasparin, Mercator Ocean, France
Thierry Strässle, Paul Scherrer Institute, Switzerland
13:30-15.00. Session 3: Conceptualisation and measurement of impact
Matthew Woollard, UK Data Archive, UK
Jessica Catalano, Centre for Industrial Studies, University of Milan, Italy
Andrew Harrison, Diamond Light Source, UK
15.00-15.30. Coffee break
15.30-17.00. Session 4: Collaboration between infrastructures to create impact
Michael Mirtl, eLTER – Long-Term Ecosystem Research in Europe, Austria
Antje Keppler/John Eriksson, Euro BioImaging
Francesco Sette,  ESRF – The European Synchrotron Radiation Facility, France
Programme outline 17.09.2021
09.00-09.45. Keynote session 1 bis
Keynote speaker:
Frédéric Sgard, OECD Global Science Forum, Paris, France
09:45-11.00. Session 5: How is impact measured in the various ESFRI domains?
Rory Fitzgerald, ESS – European Social Survey, City University London, UK
Sverre Quale, ECCSEL – European Research Infrastructure for CO2Capture, Utilisation, Transport and Storage
Serge Bogaerts, PRACE- Partnership for Advanced Computing in Europe, Belgium (TBC)
11.00-11.30. Coffee break
12.15-12.30. Closing session: Looking forward and wrapping up
Program committee
Bente Maegaard,  Social and Cultural Innovation SWG, chair
Georg Lutz, Social and Cultural Innovation SWG, local organiser
Basudeb Chaudhuri, Social and Cultural Innovation SWG
Jose Luis Martinez, Physics and Engineering SWG
Orla Murphy, Social and Cultural Innovation SWG
Jeannette Ridder-Numan, ESFRI Implementation Group
Federico Ruggieri, DIGIT SWG
Radislav Sedlacek, Health and Food SWG
Maria Theofilatou,  European Commission
Minh Quang Tran, Energy SWG
Gert Verreet, Environment SWG